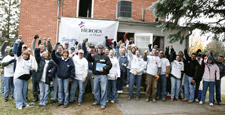 Heroes at Home Volunteers
In effort to save money, Sgt. Jonathan VanderWert and his wife Blake of New Prague, Minn. moved with their nine children into a home in need of major repair and remodeling. In August 2007, plans to fix their home were put on hold when Sgt. VanderWert was called into active duty with the Minnesota National Guard. He was told he would serve a 15 month tour in Iraq. Many rooms in the home are missing walls and ceilings. There are exposed electrical wires and only one bathroom is functioning.
Through Heroes at Home, Sears Holdings is helping the VanderWert's by repairing the basic structure of the home, finishing bathrooms and all bedrooms on the second floor, repairing all exposed wiring, painting bedrooms, and upgrading the kitchen. The VanderWerts also received a set of appliances for their home during a special event to celebrate Veterans Day. The VanderWerts are one of more than 100 military families to benefit from this program through the holiday season.